Your Summer Guide To Post-lockdown Picnics
16 July 2020
When properly prepared, a picnic is one of summer's great joys. Eating al fresco seems to intensify the flavours in food. Meanwhile, the soft light and natural scenery work their magic. Kids go free-range and adults are off-duty. Everyone relaxes.
Follow our simple steps below then enjoy an effortless family picnic or a romantic date night. We're sharing the picnic recipes we've loved throughout lockdown. These four recipes are inspired by flavours from Central America, Japan, Scandinavia, and the Med – so hop aboard your picnic rug for a taste of the world.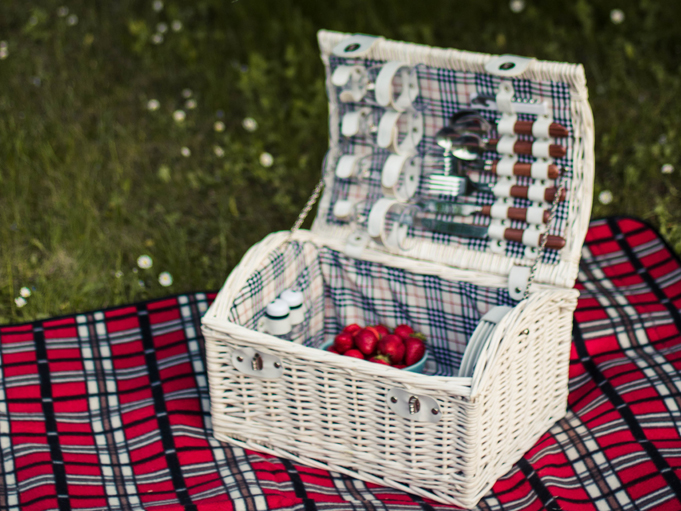 The Bare Necessities
You'll need a throw (best for sand) or a waterproof-bottomed picnic rug (best for grass) and a strong and sturdy bag. This could be a pretty hamper, a cool bag, or a hefty backpack - depending on the adventure.
Pick a few things from the list below, then add the main event from our recipes:
Good bread
Crudités (carrot and cucumber sticks, pepper strips, sugar snaps)
Dips (hummus or fava bean dip, paté, guacamole)
Cheese and meats
Olives, artichokes, sundried tomatoes
Seasonal fruit such as strawberries and apricots
Something sweet (a loaf cake such as lemon drizzle is fantastic)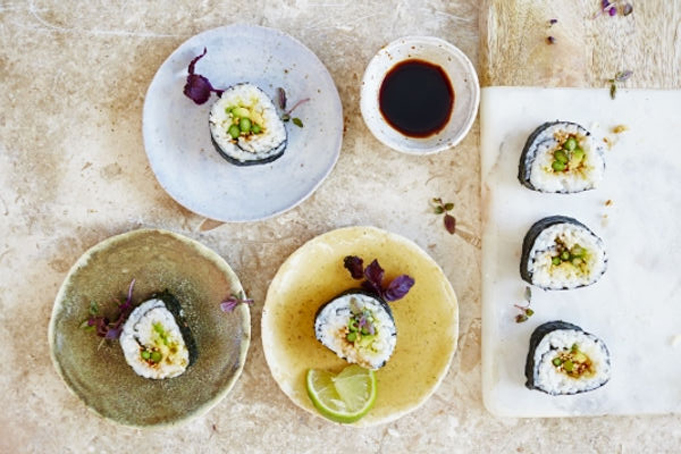 © Photo by Jamie Oliver
Asparagus Sushi
Addictive rolls of nori seaweed and sushi rice filled with creamy avocado, fresh lime and seasonal asparagus. Delicious as a light lunch or served with BBQ fish.
Follow Jamie Oliver's easy and fun recipe here, or vary it by cutting the nori into larger strips to make sushi wraps. Feel free to add thin crunchy cucumber batons and strips of duck or vegan duck pieces for an upgrade on the usual sandwiches.
Top tip: pop your soy sauce in a jam jar for a leak-free dipping sauce.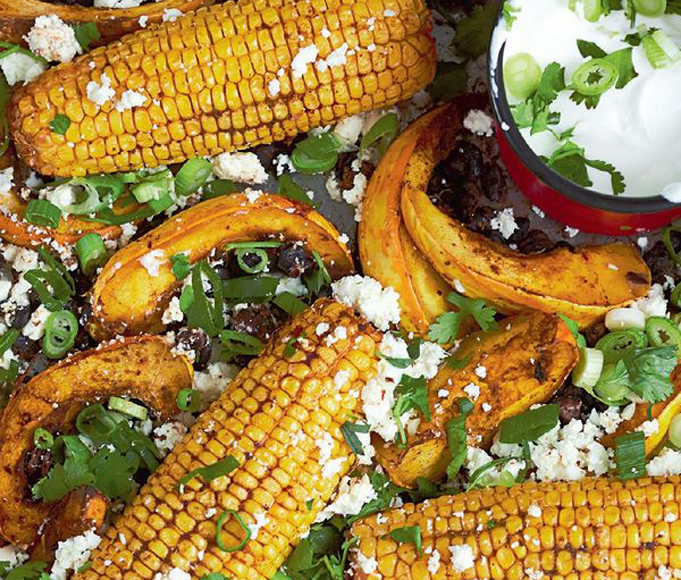 © Photo by The Happy Foodie
Chipotle-roasted sweetcorn with squash, black beans, feta & lime
Serves: an adventurous family of 4, or 2 hungry adults
Prep and Cook Time: an hour
Tastes best: for dinner on the beach!
Top tip: this one is a messy affair, bring napkins and forks!
This recipe is a favourite of ours, from Rukmini Iyer's book The Green Roasting Tin. It takes a little time to prepare, but the oven does all the work and the result is sublime.
Slow roasted squash, smoky cumin black beans, spring onions, a squeeze of lime, fresh coriander, cool yoghurt and crumbled feta. Rescue a beautifully charred corn on the cob which has been basted in spices, then pile the rest into wraps for a hearty post-swim dinner.
750g butternut squash, in small cubes
4 corn on the cobs
400g tin black beans
1 tsp chipotle chilli flakes
1 tsp ground coriander
1 tsp ground cumin
1 tsp salt
2 tbsp olive oil
Toppings
4 tbsp yoghurt
Juice of 1 lime
200g feta cheese
25g fresh coriander
4 spring onions, chopped
Serve with wraps or flatbreads
Preheat the oven to 180 fan.
Mix together the squash, sweetcorn and black beans in a roasting tin along with the spices, salt and oil. Roast in the oven for 45 minutes to an hour.
Squeeze over the lime juice then scatter with feta, coriander and spring onions, and dollop with yoghurt. Once you are ready to eat, help yourself to the corn on the cob and spoon the rest into wraps.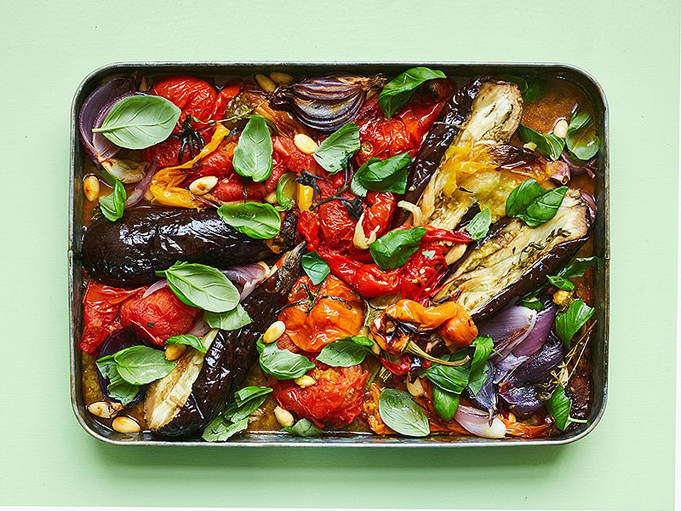 © Photo by The Happy Foodie
Pasta Escalivada
Serves: 4
Prep & Cook Time: 1 hour
We've adapted Rukmini Iyer's recipe for Escalivada, a Spanish dish where Mediterranean veg are slow roasted whole, until their edges char and they burst out of their skins to form a rich and aromatic sauce. With the addition of heaps of pasta and olive oil, it's a picnic dream come true.
Rukmini writes 'this dish is like sitting in an outdoor café in Spain', and we quite agree.
2 whole aubergines
3 peppers
6 large vine tomatoes
1 red onion
A handful of fresh thyme sprigs
4 large cloves of garlic
2 tbsp olive oil
1 tsp sea salt
25g fresh basil
250g fusilli or other pasta
Preheat the oven to 180. Tip everything except the basil and pasta into a large roasting tin and use your hands to coat the veg really well in oil and salt.
Roast for an hour. In the final ten minutes cook the pasta until it is al dente, then drain it and stir through some olive oil. Remove the tin from the oven when the veg is very, very soft and wonderfully aromatic. Mash the roasted garlic with a fork and use the same fork to 'pull' the aubergine from its skin. Mix everything into the pasta, perhaps with a glug more olive oil, then scatter with basil leaves and optional cheese. Try to wait until you reach your picnic spot before you tuck in!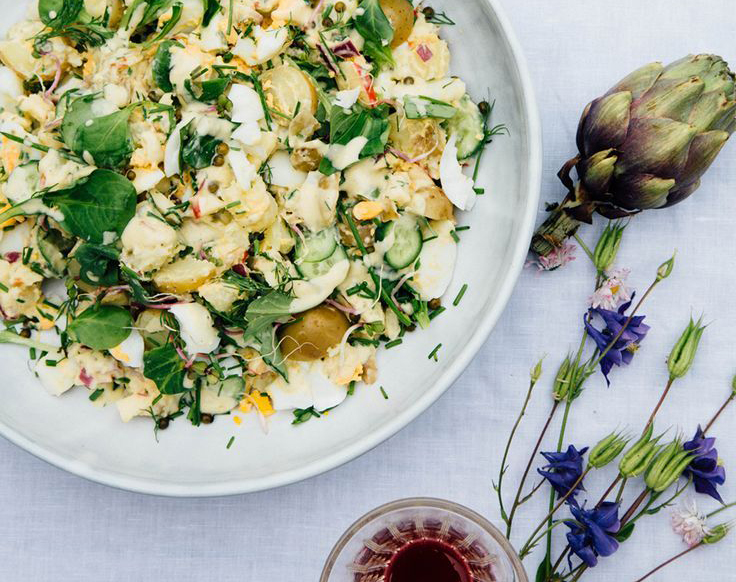 © Photo by Elizabeth Van Lierde | The College Housewife
Scandinavian Midsummer Salad
Serves: 4
Prep & Cook Time: 15-30 minutes
The queen of all potato salads, we have the Swedish blogger Nina Ollson to thank for this recipe, taken from her book Bowls of Goodness.
Midsummer festival is Ollson's favourite holiday and from her description we can see why: 'we eat alfresco, wear flowers in our hair and dance barefoot with our children'. Recreate Scandi summer days in the meadows of South Devon…
4 free range eggs
800g baby new potatoes
1 or 2 bunches of fresh dill
Extra virgin olive oil
1 red onion, thinly sliced
Handful of fresh chives
100g mixed green leaves
1 apple, thinly sliced
½ cucumber, sliced
Small handful of capers (opt)
100g fine green beans or mange tout (opt)
Dressing
75g yoghurt
75g mayonnaise
2 tbsp lemon juice
1 tbsp apple cider vinegar
1 tbsp Dijon mustard
Salt and pepper
Splash of water
Boil the eggs for 6-7 minutes, then rinse under cold water and set aside.
Cook the new potatoes and a few dill stalks (for flavour) for 15 minutes in salted water. Add the green beans/mange tout after 10 minutes. When the potatoes are soft, drain them and remove the dill stalks before drizzling over some olive oil and leaving them to cool.
Shake the ingredients for the dressing in a jam jar and set aside. Cut the potatoes into bite sized pieces and place with the rest of the ingredients in a large tub. Peel and slice the eggs and add them.
When you arrive at your picnic spot, drizzle over the dressing and toss the salad gently to coat it before piling it onto plates.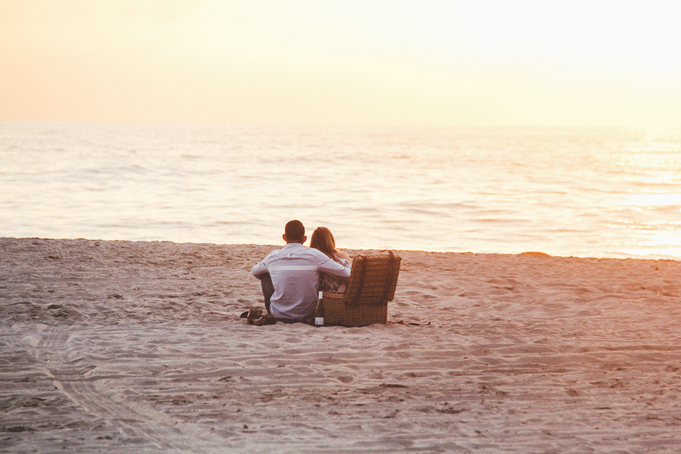 That's the food sorted, but where will you eat? South Devon is full of gently rolling fields, stunning coastline, not to forget the tor studded heights and wooded valleys of Dartmoor. Looking for a picnic spot? Our blue flag beaches are a good place to start.