5 Delicious Christmas Bakes for the Festive Season
30 November 2020
As the last leaves spiral from the trees under pink skies and chimneys chuff like steam trains, we know winter is here. Bake Off has ended (which is saddening) and we're in need of our baking fix. Good job Christmas is just around the corner.
The cold season is one for comforting, rich, and boozy bakes—to be enjoyed beside crackling hearths as flurries of snow swirl outside.
At Long Barn Cottages we've picked five festive bakes to get you started on your Christmas baking extravaganza.
Salted Caramel Christmas Cake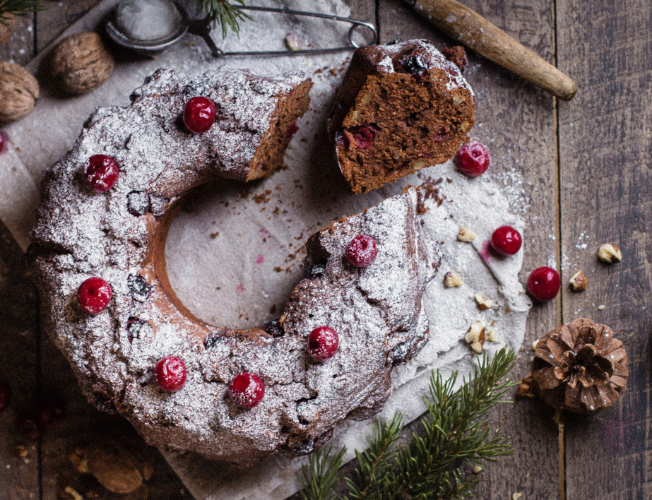 It wouldn't be Christmas without a Christmas cake. The tradition is a cake made with mixed fruit, brandy, and a geological layer of marzipan and white icing. Same cake, different year. Not that there's anything wrong with tradition, but sometimes it's nice to try something different.
So, lets mix classic with modern, and go for a salted caramel Christmas cake—baked with chewy toffee chunks and spiced rum. Who doesn't like salted caramel? There's a good reason it's taken over the chocolatier and confectioner universes. It's moreish as anything.
For the full salted caramel Christmas cake recipe click here.
Fiery Gingerbread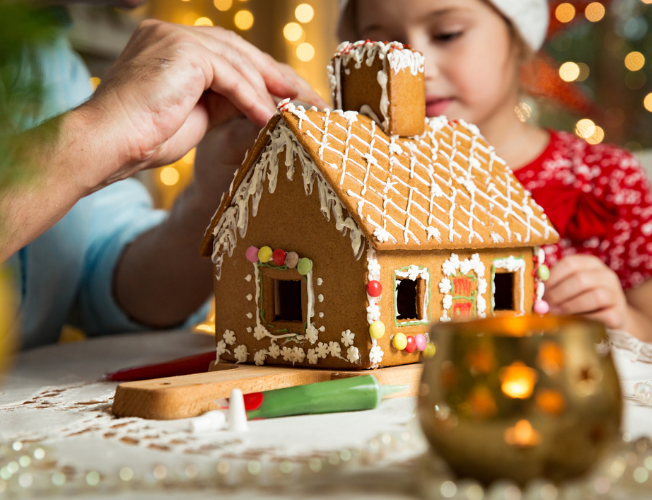 Gingerbread may not be complex, but it's this simplicity of flavour that elevates it. A crunchy piece of gingerbread, with all that fiery ginger and spice, is mouth-watering. Warming, festive, and easy to make. What's not to like?
This is also a great recipe for kids. You can make the age-old favourite, gingerbread men, cut out Christmas trees, or whatever shapes you fancy. If you're feeling ambitious, you can design a flat pack gingerbread house. Bake the separate panels, join them together with either caramel, and decorate with sweets and icing sugar. This turns humble gingerbread into a spectacular Christmas centre piece.
For a basic gingerbread recipe click here.
Whisky Mince Pies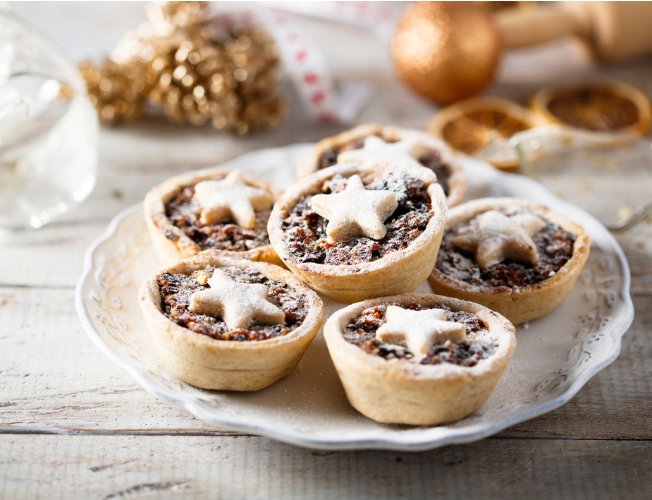 Christmas would be just another public holiday without mince pies. Imagine. These are perhaps our favourite boozy Christmas bakes and rightly so. Surprisingly simple, perfectly sized, and hearty yet delicate. To be served, of course, with a scoop of brandy butter and a dollop of clotted cream. Lush. Each year we overindulge in mince pies, as if eating enough of them will get us drunk, and it's amazing.
Brandy or rum is often used as the spirit in mince pies. However, we think the smokiness of a highland single malt is an ideal addition. No booze warms the cockles quite like whisky; hence its nickname "fire water".
You might have a family mincemeat recipe, in which case simply substitute whatever alcohol it needs with whisky, or you can cheat and buy a jar of mincemeat. Don't worry, your secret is safe with us. The thing about mincemeat is the best stuff is created months in advance of Christmas, so it can't be rushed. That's why it's fine to buy some.
Here's a quick and easy, no drama whisky mince pie recipe.
Christmas Cookie Pizza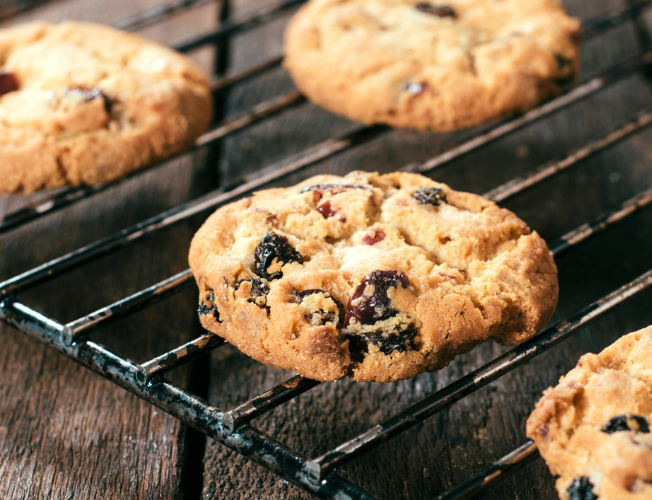 Pizza isn't Christmassy, it's true. Not unless you put turkey and all the trimmings on one—which is weird and not advisable. On the other hand, if you bake giant cookies to look like pizzas and serve them in a box, merry Christmas. Honestly, this isn't all that festive either. It is fun though, so we had to include it.
What sort of cookie is up to you; our suggestion would be an oat cookie with raisins and spices, and dark chocolate on top.
Pizza cookies might be a novelty, but who cares, when done right they are delicious and bound to bring smiles this Christmas.
Here's a spicy oat cookie recipe to get going with.
Luxury Chocolate Yule Log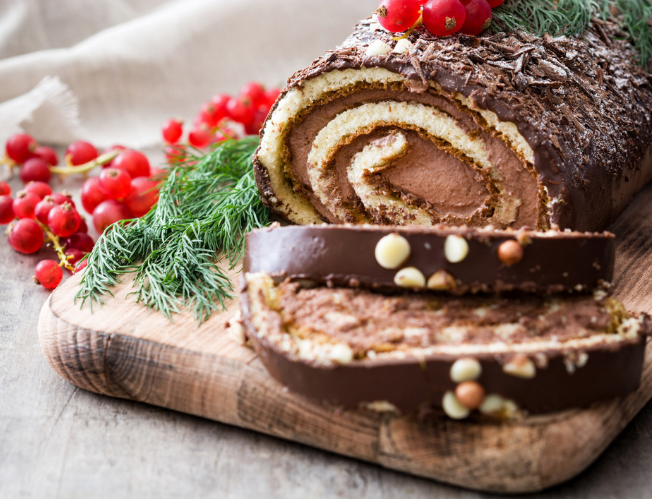 The words "chocolate" and "log" are magical together. Mmmm load o' chocolate we think, as our primal brain takes over. Nothing subtle about a chocolate yule log. An essential part of Christmas. Why a log though? What does yule mean? We may have eaten countless slices over the years and never taken a moment to consider its history.
Yule is an abbreviation of "Yuletide" a pagan Celtic festival which took part around the winter solstice. To purify the seasons passed, and usher in the new year, they would burn a large log decorated with holly, ivy, and pinecones. Occasionally, it was anointed with wine. The ashes of the yule log were precious and kept in the home to ward off evil spirits.
As Christianity absorbed ancient pagan winter rituals into Christmas, the yule log evolved. It turned from wood into chocolate, from literal to abstract—though no one can pinpoint when. What we know, is the modern yule log we love, was popularised by the patisseries of Paris in the 19th Century.
A yule log is a luxurious treat and can't be frugal in any way. With that in mind, perhaps the best person for a base recipe is Nigella. The queen of indulgence.
Thanks for reading our blog and we hope you enjoy your festive baking. 2020 has been a remarkably difficult year for everyone, and there's happiness to be found in Christmas which we desperately need. Let's raise a glass to one another this year. We've done so well.