Avoid "I'm Bored" on Your Devon Holiday With These Top Family Attractions
21 September 2018

It's the first morning of your self-catering family holiday in Devon – you're lying in bed.
Your thoughts swirl with the rolling countryside, wild moor and heritage coastline you can explore. Oh, and the pretty villages and towns. Devon seems so romantic; you place an arm around your partner.
What about the food? Mmmm, you remember the local bacon and eggs you grabbed for breakfast. That bacon. Those eggs.
You smile.
…
"I'm BORED." (from the foot of the bed)
Before bacon and eggs, before coast, before villages, before moors – are the children. And, as you well know – unless you fill their time, they're bored.
They're not bothered if you're in bed, or in Devon. "I'm bored" is a dreaded phrase, and unless you plan some activities, your holiday will be full of it.
To save your ears, here are some top family attractions to visit whilst in Devon –
The National Marine Aquarium – Plymouth
This isn't any old aquarium – it's the largest public aquarium in the UK – with wonderful sea creatures, big and small, from around the world.
As the largest aquarium, it's fitting that is has the largest, and deepest tank too. The 'Atlantic Tank' is something to behold, and children will love watching sharks and rays glide from its shadowy depths.
The National Marine Aquarium is an inspirational hub for marine conservation – reminding us how precious, diverse and beautiful our ocean wildlife is. If you're in Devon, you'll regret not going.
The Butterfly & Otter Sanctuary - Buckfastleigh
That's right. Butterflies and otters.
Technically this is the Buckfast Butterfly Farm and Dartmoor Otter Sanctuary. It's just, you don't want to be confused and think they're in different places. That would be silly.
This is one of Devon's loveliest family attractions and sounds too quaint to be true. Otters frolicking, butterflies fluttering. Still, it's exactly as it sounds.
Children are fascinated by the natural world, and this is exactly the sort of colourful place that will mesmerise them for a few hours.
Please visit the website for more info.
Woodlands Theme Park – Dartmouth
This is Devon's largest family theme park, with one of the best indoor play areas in the South West. There's also a zoo farm with lots of cute animals and plenty of adventure zones, such as ninja, sea monster, circus drome, arctic, cyclone canyon, fantasi forest, toddler's and action.
Plus, for adults and older children there's a new ride – Vertigo. How are you with heights?
Woodlands is a favourite amongst Devon locals, and genuinely a fun place to visit. Come rain or shine it can inject some real excitement into a day.
For ticket prices and to explore what's there, click here.
Kents Cavern – Torquay
This mysterious labyrinth of caverns, and weird rock formations is one of the most important Stone Age sites in Britain.
A fifteen-year excavation in the most unlikely place, Torquay, unearthed the secrets of Kents Cavern, including the oldest human jawbone in North West Europe.
Kents Cavern is now a Unesco Global Geopark, and features guided tours, a restaurant and seasonal events.
Described by TripAdvisor as an "unbelievable experience", Kents Cavern is a standalone Devon attraction – one not to be missed.
Check out the Kents Cavern website.
Paignton Zoo
Paignton Zoo is one of Britain's finest, and home to many of the world's iconic animals – giraffes, rhinos, cheetahs, lions, tigers, red pandas, crocodiles and gorillas.
Spread over 80 acres, it's a proper day out and a brilliant way to learn about conservation and for people of all ages to connect with the natural world.
Not only is Paignton Zoo home to some awesome animals, but it has a lush botanical garden – for any horticulturalists in need of a fix.
There's a selection of food and drink outlets around the site – so no one's energy should dwindle. Click here, for more info.
House of Marbles – Bovey Tracey
Some people moan the world is over digitalised, and that children are constantly strapped to i-pads and so on. "We used to poke things with sticks – it was more wholesome".
Children play with what they're given, enjoy what they're shown and learn what you tell them. Show them some superb marble runs and they'll be transfixed.
The House of Marbles – it's the humble marble – but like you've never seen it.
There's also glassblowing, a marble and board games museum and a great restaurant.
Quad World – Exeter
There aren't many places equipped to let children ride motorised things. Quad World is exactly that.
Neither you, or your children need any riding experience because Quad World gives expert one-to-one tuitions, and for safety, provides full protective gear. All you do, is turn up and tear around a dirt course.
If you don't want to be washing filthy clothes this attraction isn't for drizzly days.
For directions to get to Quad World and more info, click here.
RAMM – Royal Albert Memorial Museum – Exeter
RAMM is, simply, one of the most interesting, diverse and superbly curated regional museums in the country. World class displays showcase Exeter and Devon from prehistoric times to present day.
Also, are significant collections detailing global exploration and collecting in the 18th and 19th centuries.
RAMM is the most visited attraction in Exeter, and always has something going on – with a full calendar of exhibitions, events and activities.
Sea Kayak Devon – Dartmouth
It'd be strange if you came to Devon and didn't arrange an activity involving the sea. If you were in the Midlands, that's fine – but in Devon you're never far from a beautiful stretch of coast. So, no excuse.
What's the best way to see Devon's coast?
Well, you could walk along South West Coast Path or…
Sea Kayak Devon invites families into the water, to explore rocky islands, secret coves and get up close to amazing wildlife. After a scenic paddle, expect a driftwood fire on a secluded beach and toasted marshmallows.
Sea Kayak Devon offers half day, full day and overnight camping trips (where bush craft skills are taught). Children as young as five can come along for the adventure, sitting alongside their parents in double canoes.
These are only a few of Devon's family attractions
You'd be saying "I'm bored" if you had to read a blog with all of them. But, this handpicked selection should give you a solid starting point for your Devon holiday and save you thinking on the spot when you arrive.
If you want a wider selection, have a peruse on Visit Devon.
Half Term is coming, already. Time to book your Devon holiday.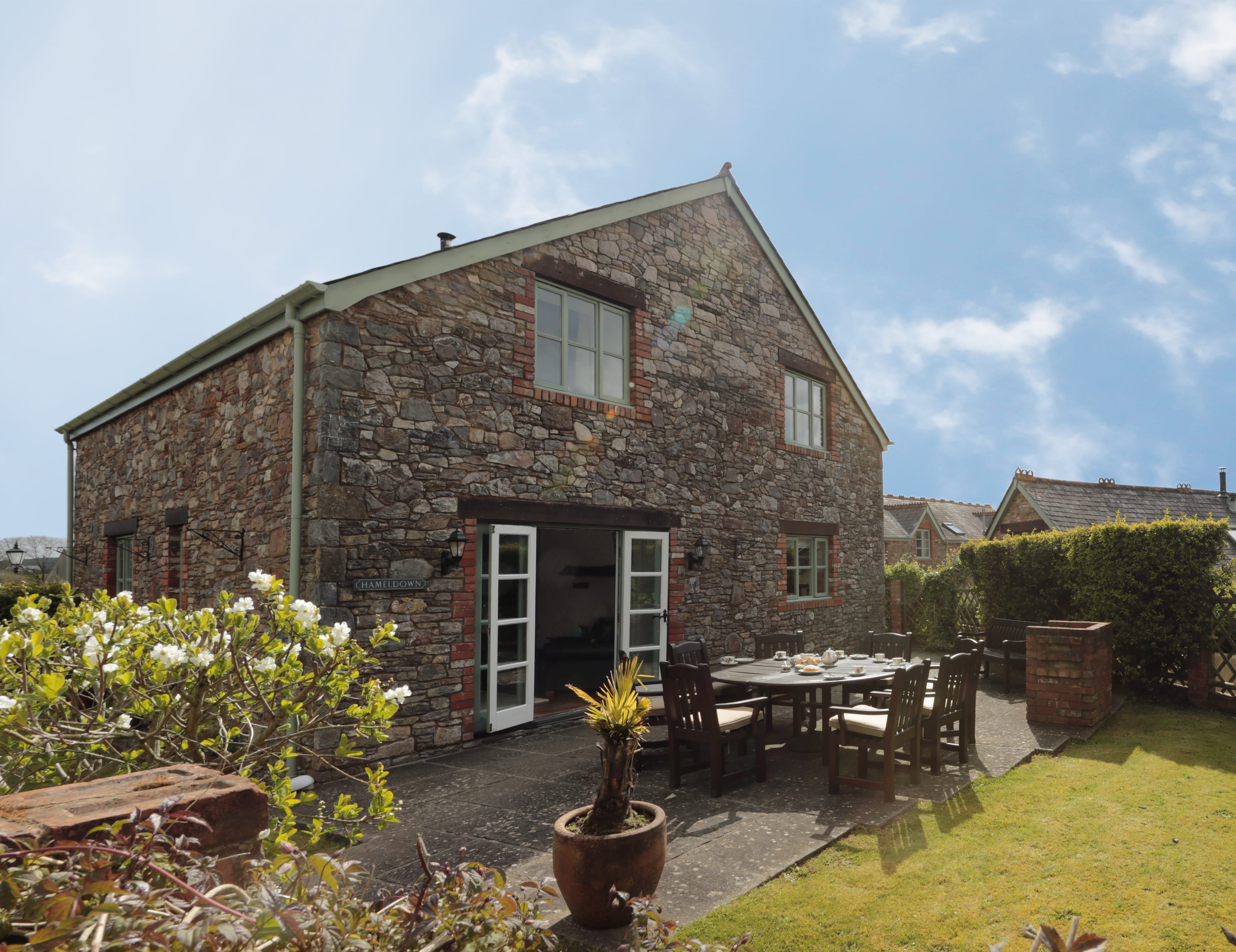 Long Barn Luxury Holiday Cottages are nestled in the picture-perfect hamlet of North Whilborough, South Devon, less than an hour from all the attractions above.
Enjoy modern, yet rustic, four-star self-catering cottages – that compliment your family holiday in Devon and give you that "home from home" feeling a hotel never will.