10 Things You (May) Not Know About Devon
31 March 2019

Roads, Roads, Roads
Despite being rural, and idyllic, Devon also has the longest road network of any county. Of its 8000 miles of road, 1000 of these are country lanes.
Of course, with the invention of sat navs its difficult to get lost, but there's something liberating about driving into the deep Devon countryside and exploring a vast Kingdom of pretty lanes.
You'll Have to Shuffle Sideways
Parliament Street in Exeter is one of the narrowest in the world. Okay, it's not likely you'll have to turn sideways, however, at 0.64 at its narrowest— flailing your arms in excitement is not recommended.

Oldest Gin for the Win
In recent years the coolness of gin has experienced a huge resurgence—particularly craft gins. Unfortunately, many of these beautifully branded gins are not what they seem. Often, they are neutral spirits infused with botanicals. This is known as compound gin.
No manner of fancy looking butterflies or ghostly boats can replace quality.
For gin to be "the real deal" is must be distilled. Devon knows all about high quality gin. Plymouth's Black Friars Distillery on the Barbican is the oldest in England, started in 1793.
Plymouth's Gin is considered world-class, winning many awards on the international stage.
The Name You Have to Shout!
Westward Ho! Is the only place in the British Isles that has an exclamation mark in its name.
If ever you visit and want to shout it, do so. Afterall, it is the way it's written. Its peculiar name is taken from Charles Kingsley's popular 1855 novel of the same name—which follows the exploits of a privateer, setting sail for the New World.

Birthplace of the Jack Russell Terrier
It's easy to forget that domestic dogs are (mostly) the result of purposeful breeding. This includes the much-loved Jack Russell terrier.
Before the life of priest and dog breeder John "Jack" Russell, born in 1795, this type of terrier didn't exist. John Russell wanted to create a perfect hunting dog.
Having spotted the ideal starting terrier Oxfordshire, he bought it, and went on to create the energetic, characterful dogs we know today.
Oldest Evidence of Humanity
Torquay is best known as the centre of the English Riviera—a classic British holiday destination. It's seldom known as the home of the earliest modern human fossil in North Western Europe.
In Kents Cavern a human jawbone was discovered, that was carbon dated to almost 40,000 years old. This staggering discovery has designated Kents Cavern as a UNESCO World Heritage Site.

© National Trust, Drawing Room at Castle Drogo
The Final New Build Castle
All castles were new build at some point, but most are old (extremely old) and packed with draughts and cobwebs. Castle Drogo near the village of Drewsteignton is a definite exception to the age rule. It's less than 100 years old. By castle standards, a baby.
A finished Castle Drogo dates from 1930 and was privately built for Julius Drewe. From the outset it had electricity and its battlements were purely aesthetic.
Drogo was the last castle to be built in England, and perhaps the last stately home hewn from granite.
The Elephant of North Devon
In the early part of 1844 during some routine digging in Barnstaple, something amazing was discovered. Some, extremely rare, straight tusked elephant fossils—an animal which became extinct in the UK 115,000 years ago.
The fossils were from one elephant. So, what can safely be assumed is that a long, long time ago a single elephant lived in Devon. Did he or she have friends? We hope so.
Of course, it wouldn't have been Devon then. More, an unnamed patch of land in the Northern Hemisphere.

Cakes for Sir Francis Drake-s
Whilst Sir Francis Drake, explorer of the New World, privateer, and defeater of the Spanish Armada was in Plymouth, and fancied a seed cake—there was Jacka. A bakery on the Barbican. It's still there today, making it the oldest bakery in Britain.
It's even rumoured that Jacka baked the biscuits for the crew of the Mayflower in 1620.
Today Jacka bakes all sorts, from sourdough to croissants. Not only is it the oldest bakery, but also considered one of, if not the best bakery in Devon.
Home of the Humble Pasty
Until even more ancient proof is discovered in a dusty book in Cornwall, a recipe found in Devon in 2006 cleared up a universal question.
Who invented the pasty? Cornwall did, no Devon did. Somerset di…what?
Archivists in Plymouth found references to pasties dating back to 1509. This is thought to be the oldest pasty reference in the South West.
But still, the inter-county argument continued. A Cornish pasty chronicler, which is a thing, claimed evidence for pasties in Cornwall had been found in primitive cave paintings…
Before even fire, there was—the pasty.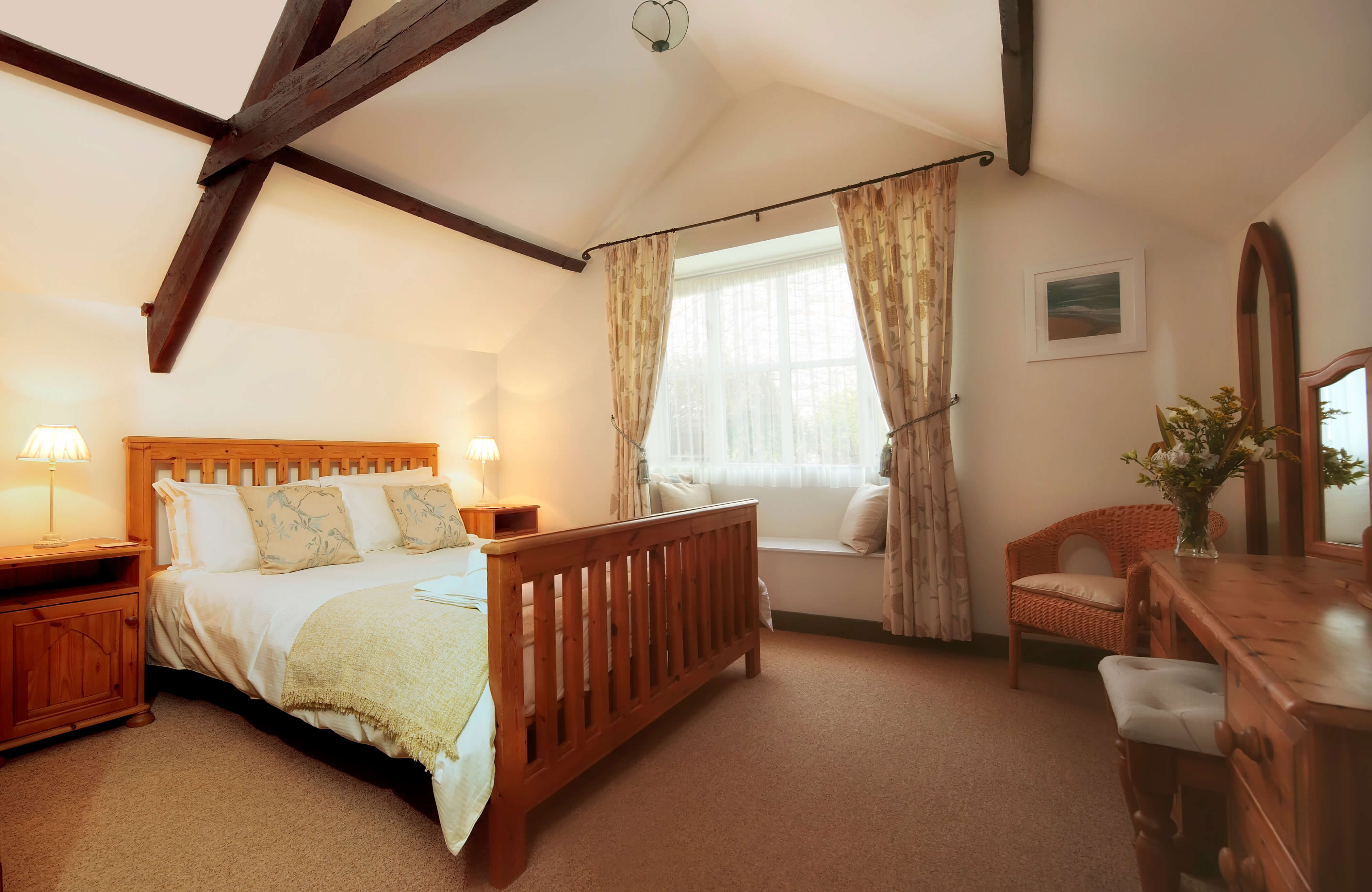 Weekend Break in a Beautiful Devon Cottage
As you can see, Devon is slightly eccentric, and never dull. It's also up there with the most scenic, chocolate-box lovely places to visit in the UK.
Both of its coast lines are areas of outstanding natural beauty, and it has the largest open space in southern Britain—Dartmoor. The ideal place to let go of your stresses and strains.
Devon is also home to exquisite seafood, cheeses, ales, ruby red beef, CIDER, custard, and reams of the finest produce—you name it.
Quite simply, it's lush.
Why not do it properly and come and stay in a cosy cottage? A wonderful weekend away.